Kashmiri chai is also called "Pink tea" or "Gulabi chai" or "noon chai". It tastes really delicious in winter with the warmth of pink colour and garnish of chopped almonds and pistachio. Pink tea is actually a blend of tea leaves, water and milk. Traditionally it tastes salty but we can add sugar according to our taste. The real twist is the addition of "metha soda" or sodium bicarbonate or baking soda in the tea. Baking soda reduces cooking time, much but if we continue the heating process for about 40 to 50 min and keep adding cold water the chlorophyll in leaves release its pink colour and we can get that pink colour. Then we add milk and groundnuts like pistachio, almonds etc. to make it more creamy and delightful Kashmiris add cream and butter.
Why Kashmiri chai is called Pink tea, Gulabi Chai, Noon Chai?
These four names of a single drink, waoo well! it is quite interesting.
Let's dig deep into it. Green tea actually originates and grown in Kashmir region due to its climate. People use to make 'Kehwa' with these tea leaves to make them warm. This makes green tea their traditional drink. They use to make it in large quantity and brew this tea for a long time to keep it warm while keep adding water to it. This ladling and brewing give it a pink colour. Baking soda reduces its cooking time. Another thing is the addition of salt give its name as "noon tea". Noon is Kashmiri word that means Salt. In Kashmiri people traditionally only add salt in it.
When this tea popularize in Pakistan it undergoes some changes as people start calling it "Gulabi chai" just because its colour is like rose, beautiful rose pink colour. This pink colour and addition of nuts make it special. For this reason, people start serving this tea in weddings. Pakistanis, in general, like sweet tea so they start adding sugar into this tea.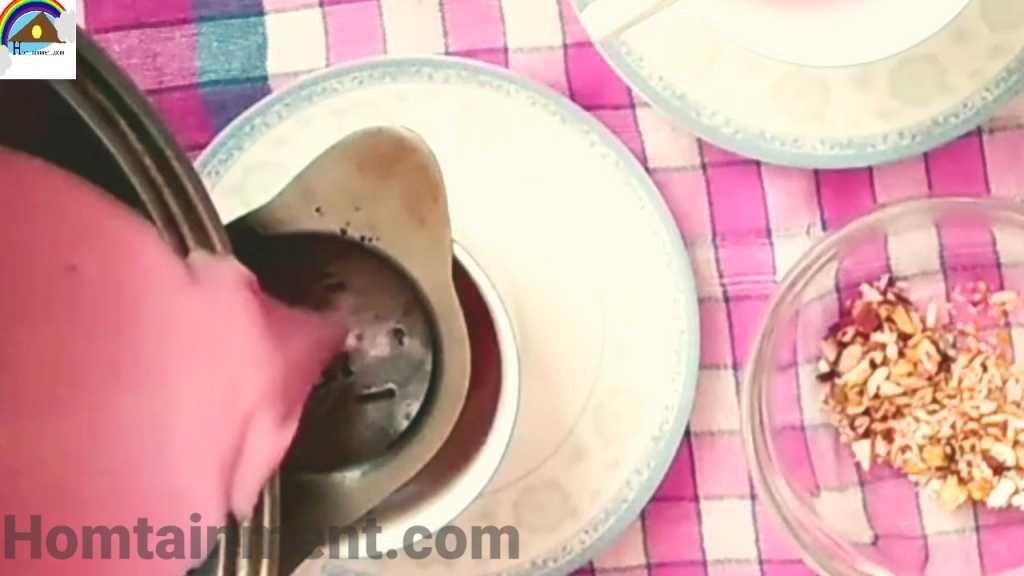 Noon chai recipe vs Sheer chai recipe:
Noon chai is often confused with sheer chai but there is a difference between these two. Sheer chai comes from Afghanistan. sheer chai means tea with milk. Afghani people use to drink this chai throughout the day and serve it to guest as a gesture of hospitality. Black tea and milk are basic ingredients but to enhance its flavour they use cardamom powder and sugar. It can be prepared within 15 min.
Can we use green tea leaves for making Pink tea or Gulabi chai?
We can make this noon chai or pink chai from locally grown (Jammu and Kashmir) green tea leaves. We brew green tea leaves with water for half an hour then add cold water. Add baking soda then brew it again for 5 min and beat like an egg for 10 min. This step is crucial to attain pink colour a little faster. But if we don't want to use baking soda we still can get this pink colour. We have to brew the tea for 40-50 min or more and keep adding cold water along with beating the boiling tea water. we have to make sure that water doesn't evaporate completely so keep on stirring with a spoon.
Which whole herbs we use in pink tea?
We add Half a quill of Cinnamon, Cardamom, Star Anise (originally known as Baadiyaan ka phool in Pakistan) in pink tea with second addition of water.
Why my pink tea is not turning pink?
There can be few reason for not getting pink colour like
Only use steel pot for making pink tea if use silver or bronze pot pink colour will not come out.
Addition of baking soda and salt is also very important to get a pink colour.
And the most important step in brewing and ladling for long time of tea in water and addition of cold water two times. We have to whisk vigorously by filling a ladle with tea and throwing it back into the pot from a height (phantna). Do this for about 10 seconds, then add chilled water again and continue to whisk for another few minutes.
For how long we can use this brewed tea water?
we can refrigerate brewed tea water for 3 days to enjoy this pink chai without any effort but only add milk when you want to enjoy this hot pink tea.
Kashmiri chai: Gulabi chai: Noon chai recipe
Kashmiri chai: Gulabi chai: Noon chai recipe is made with green tea, milk and salt. It usually takes 20 to 30 minutes with baking soda and 40 to 60 min without baking soda. A pinch of baking soda reduces the cooking time and make it effortless to enjoy this special creamy and nutty pink tea
Ingredients
2

tbsp

green tea leaves

1

liter

water

⅛

tsp

salt

⅛

tsp

baking soda

½

liter

whole full milk

skimmed milk can be used

2

tbsp

ground nuts

almond pistachio

½

inch quill

Cinnamon

1

Star Anise

known as Baadiyaan ka phool in Pakistan

Cardamom

sugar

optional to taste
Instructions
here Stir continuously and rigorously to get best results.
Video
If you liked this article, then please subscribe to our YouTube Channel for more video recipes. You can also find us on Twitter and Facebook.