No-bake chocolate cold cake means no effort with sweetness of cake without baking. That seems interesting! Here I am sharing the recipe of a simple and perfect No-bake chocolate cold cake. This cake is an all-time favourite of my whole family.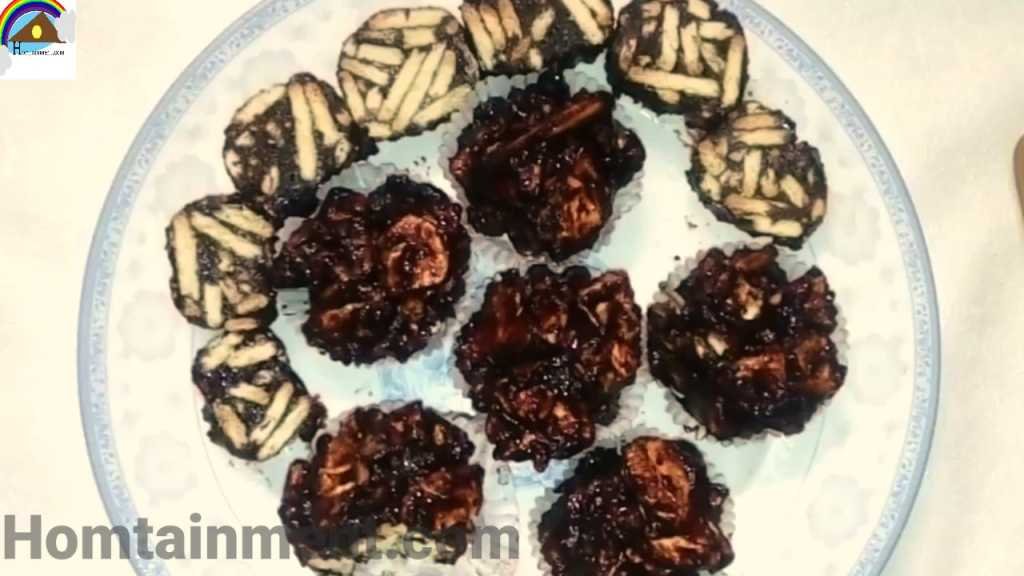 The important thing is preparation time which is just 25 min. This no-bake chocolate cake is really easy to prepare. We only mix all the ingredients, cook on low flame and we are done. We can prepare this recipe in advance before any guest arrives.
In hot summers my guests enjoy a lot with this homemade cold dessert. This simple and perfect no-bake chocolate cold cake is a healthy and nutritious treat as well. It contains eggs, butter, sugar and cocoa powder and biscuits.
let's talk about its ingredients and their nutritional value of No-Bake Chocolate Cold Cake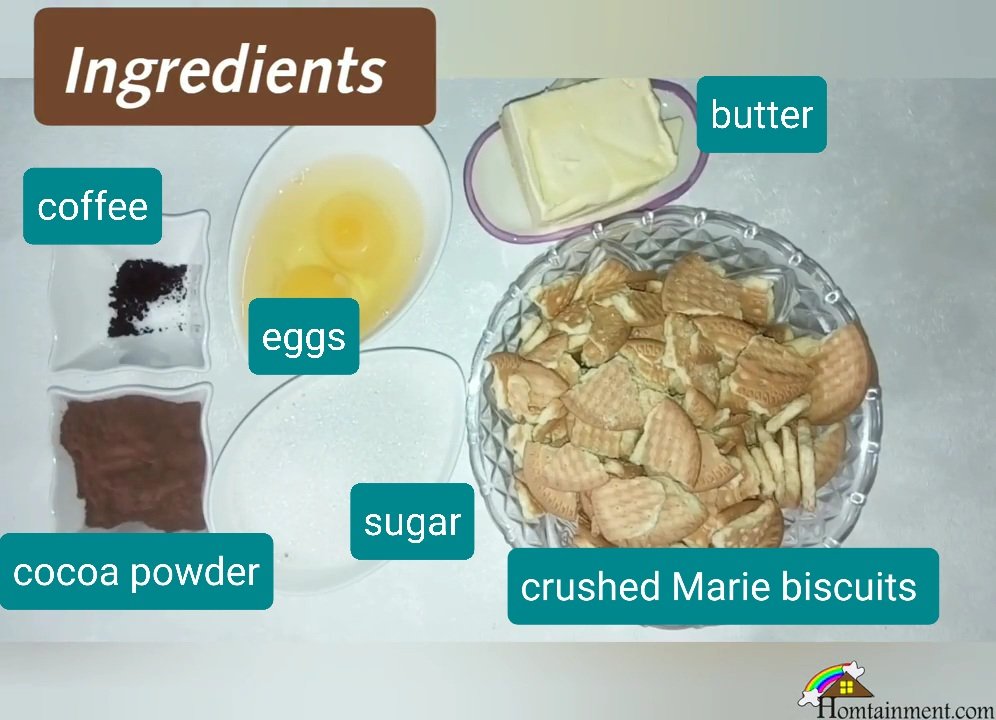 Eggs
Eggs are common ingredient. All of us must have in breakfast.In this recipe we going to use two eggs. One egg has 7 grams of high-quality protein, 5 grams of fat, and 1.6 grams of saturated fat, along with iron, vitamins especially B12, minerals, carotenoids. and it is a powerhouse of disease-fighting nutrients like lutein and zeaxanthin.
Butter
1 tablespoons or 14 grams of salted butter contains 102 calories with water, protein, carbohydrate, sugar fibre and 11 grams of fat. Fat in butter contains most of the saturated fat only a small amount of monounsaturated, polyunsaturated and trans fat. Above all, butter is a good source of vitamin A, D, E, B12 and K2.
For instance, vitamin A is most abundant in butter. One tablespoon (14 grams) provides about 11% of the Reference Daily Intake (RDI). A powerful antioxidant vitamin E is also a part of it. Vitamin B12 or cobalamin is important for the production of Red blood cells and for the proper functioning of the nervous system. Vitamin K2 plays important role in protection of heart disease and osteoporosis.
Cocoa Powder:
Cocoa powder is packed with nutrients and minerals such as iron, zinc, selenium, and magnesium. A quarter cup of unsweetened cocoa powder contains 49 Calories with 12 grams of carbohydrate, fibre protein and some fat.
Sugar:
Most importantly this chocolate cake has an adequate amount of sugar. Sugar is a good source of carbohydrate and it is essential for brain health. However, we should use it in moderate quantity.
How to make No-Bake Chocolate Cold Cake: Step by step instructions:
Instructions for making chocolate cake sauce
In a mixing bowl preferably glass or steel mix sugar, cocoa powder and eggs with wisk. It will take 5-10 minutes to completely dissolve the sugar and cocoa.
it is definitely more easy to dissolve sugar and cocoa powder with eggs then mixing sugar with butter. I experiment with different sequences and I found the mixing granular sugar with butter will take ages to mix.
Let it settle and mix completely. Add coffee and mix again till get a thick consistency in sugar and egg mixture. You can add dry nuts like walnut, pistachio, cashew if you like for making it more crunchy.
Now on medium flame cook this mixture on a double boiler for 7 minutes to get thickened paste.
How to make double boiler at home?
Well! Its simple take a pan a little larger then your mixing bowl. Pour in some water approximately 1-2 inch. Place your mixing bowl on it .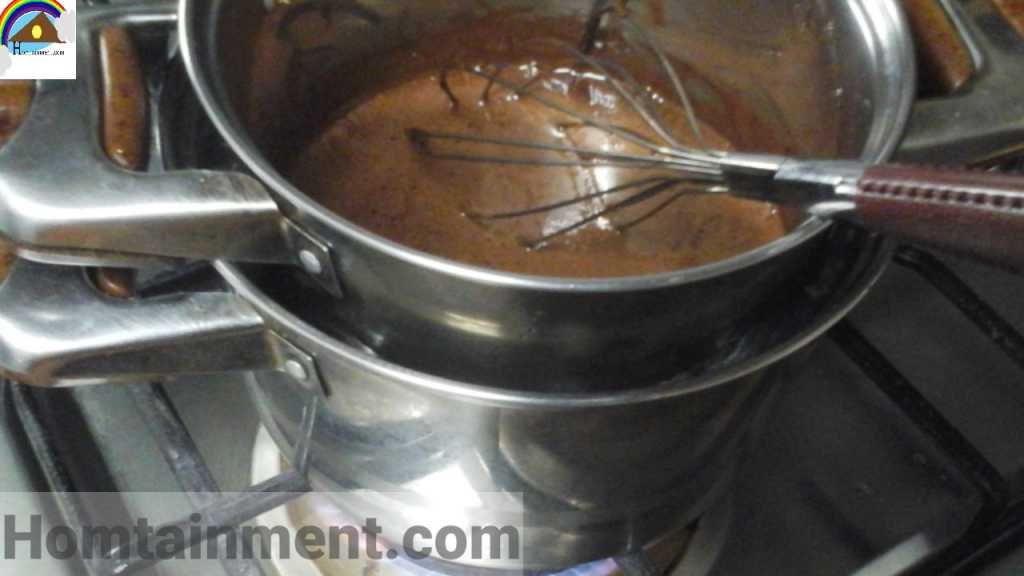 Turn on the flame and let it simmer, when steam from it will trap under your mixing pan and start cooking the mixture slowly and gradually. Till a thick paste form. Now add butter and mix again.
why we use double boiler to cook chocolate sauce?
we use double boiler to cook chocolate sauce to prevent chocolate from burning as direct heat can burn the chocolate or make the sauce lumpy and fats will get separate in turn ruined its taste.
After cooking 5-10 minutes turn off the flame. Let it cool for 2 minutes. Now add crushed Marie biscuits. Mix throughly so that all biscuits get coated with chocolate sauce. Pour this mixture into cupcakes mould or plastic bag.
we can use traditional cake mould to make cake shape and then cut into triangle shape pieces. If we are using steel cake mould don't forget to grease it with the butter so that after cooling it can come out easily.
Let it cool down in the freezer for 4 hours.After 4 hours remove and cut it into pieces. To remove no bake chocolate cake slices from plastic bag first cut it into slices then remove plastic coating by cutting it in the middle.
serving suggestion of chocolate cold cake:
We can servev as it is but many people like it with chocolate icecream or whipping cream can be for garnishing.
Enjoy the yummiest no bake chocolate cake.
No Bake Chocolate Cold Cake
This is easiest recipe for bignners. We need marie biscuits, eggs, sugar, butter and cocoa powder. mix all ingredients and cook on double boiler for 10 to 15 minutes and then just freeze for 2 hours and that's it!
Equipment
mixing bowl,

blender or hand mixer

double boiler

stove
Ingredients
2

large eggs

5

tbsp

sugar

100

grm

butter

3

tbsp

cocoa pwder

½

tsp

coffee

2

half roll

Marie biscuits

2

tbsp

crushed nuts
Video
Please leave your comment below and rate our recipe. This will help us to improve. Your Email address will not be shared publicly.
If you liked this article, then please subscribe to our YouTube Channel for more video recipes. You can also find us on Twitter and Facebook.