Chicken Karahi is so special and renowned in almost every feast. We can prepare it easily in just one pot and tastes like heaven. Its unique fragrance and spicy, tangy flavour speak out its presence during cooking and on the dining table.
The secret of method of cooking this dish is simple stir fry. The chicken will get tender chicken in its own water and tomato juices. Just follow a few simple steps and you got your finger liking taste.
Here I am sharing the best recipe of dhaba style chicken karahi that we usually enjoy during our road trips.
In this recipe, you have to strictly follow simple steps and ingredients and spices quantity and get a tantalizing taste of Dhaba style chicken karahi. It's also one of the favourites of my lovely picky eaters ?.
Let's clarify that chicken karahi or chicken kadai is the same dish so no need to confuse it.
History of Chicken Karahi:
This chicken Kadai is a Special Pakistani recipe and originated in Khyber Pakhtunkhwa KPK. There it was prepared only with salt, black pepper, tomatoes and garlic along with the chicken.
When it came to Punjab, we added more spices into it according to our taste and culture and got this Lahori chicken Karahi or Dhaba style chicken karahi. People cook it with a lot of variations but the basic method is to stir fry the chicken and tenderize it with tomatoes.
Why is it called "Chicken Karahi"?
Well, that's interesting. Karahi or Kadai is a cooking pan that has a narrow bottom and wide opening. The depth of the Karahi pan is less than a normal cooking pan. This pot or pan has an important place in Pakistani and Indian kitchens.
 We use this wok or Karahi for cooking chicken with stir fry technique. So we can take this recipe as a one pot recipe or instant chicken kadai.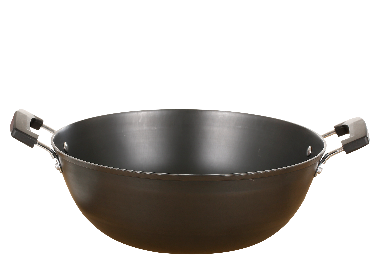 This wok or Karahi pan is available in many varieties based on iron, stainless steel, aluminium, or non-stick. You can use any of these. Iron wok or Karahi pan is a better option for slow cooking. In restaurants or Dhabas mostly used material of wok for cooking is stainless steel or iron.
Keep in mind that the size of the wok should be big enough so that we can stir the chicken easily. Small wok tends to make more mess around on the stove.?
What ingredients are required for making dhaba style chicken Karahi?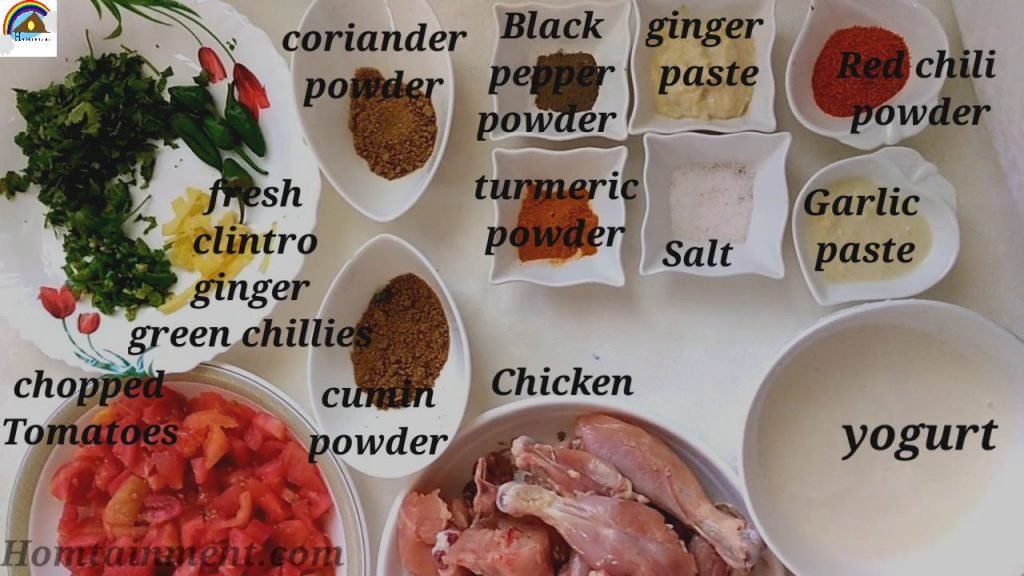 Chicken:
what kind of chicken we can use for making chicken Karahi?
Chicken is the main ingredient for making the chicken Karahi recipe. I am taking a small full chicken of about 750 grams that will be enough for 5-6 people. You can take 750 to 1000g. Taking small chicken is healthy choice and it takes less time to get tender and more juicy as compared to heavy chicken.
If you want to make Karahi for more than 4-5 people then you have to take two small chickens or more. If you take a big chicken of about 1.5 -2 kg. It will not give you a good taste, and you will feel dry or tasteless.
We can make boneless Karahi too. For making boneless chicken karahi preferably we will take small pieces of thighs or leg parts boneless. One important thing to consider is that, cut the whole chicken into 18 -20 pieces. Small pieces will reduce the time of cooking and meat will be juicy.
We should wash the chicken thoroughly before cooking.
Garlic and ginger:
We are taking ginger garlic paste here for cooking and Julienne cut ginger for garnish. Freshly chopped or paste is a good choice as this will enhance the flavours of karahi. You can use store-bought ginger garlic paste.
The quantity of garlic is more than the usual use in gravy or curries. We are not using onions to thicken the gravy just like authentic recipes in which people do not use onions.
In my opinion, onions ruin the tangy flavour. If the availability of garlic and tomatoes is not an issue for you. I recommend you to go for it otherwise you can have a little onion. 
Tomatoes:
Tomatoes are the second important ingredient in this kadai Pakistani recipe. It is based on tomatoe gravy. They should be organic, fully ripe, fresh and juicy. Before using tomatoes, wash them and peel them before chopping. The quantity of tomatoes is approximately equal to the quantity of chicken.
Spices:
Freshly prepared spices give a magical taste. Your guest will remember this for years. Freshly ground cumin seeds, coriander seeds, and black pepper are the key spices. We must use a motor or postal for grinding coarsely. If you are in a hurry then use the grinder and run it only for a few seconds. We don't need a powder form.
Salt, red chilli powder and turmeric powder are common ingredients. You can use them according to your taste. We can use garam masala powder or whole spice powder according to taste. This make recipe a little a hot and flavourful.
Green chili, cilantro:
We need these ingredients for garnishing in chopped form. Some green chillies are very hot. Be aware of using them according to your taste. The purpose of using green chili is to get flavour, fragrance and crunchiness.
Oil:
We will take vegetable oil but vanaspati ghee or butter can be used. Use of butter will improve the taste atleast 50%.
Yogurt:
If you like a more tangy flavour you can use it. Always beat the yogurt first and then add in the last step.
In restaurant style chicken karahi it is always freshly prepared and served in karahi or wok with garnishing of green coriander, green chillies, Julian ginger and lemon with chapatis.
Important points
to consider for making perfect traditional chicken Karahi dhaba style:
Always use small chicken and small pieces of chicken.
Keep stirring occasionally otherwise the bottom of wok will burn your gravy.
Fresh ingredients are key to cook perfect chicken Karahi and prefer to use freshly ground spices.
Flame should be medium to low to get juicy and tender chicken.
Ingredients forb chicken karahi dhaba style and their quantities:
chicken 750 g
ginger paste 1tbs0
garlic paste 1 tbsp
tomatoes peeled chopped 500g
green chillies 4
Red Chillies 2 tsp
black pepper powder 2 tsp
coriander powder 1 tbsp
Cumin powder 1 tbsp
yoghurt 50g (optional)
salt 1 tbsp to taste
Oil 2/3 oil
Garam masala optional
How to cook simple chicken karahi Pakistani recipe dhaba style in pictures:
Instructions:
Caramelizing the garlic paste:
Take oil in a wok and heat it on low flame. Now add garlic paste and saute. While sauteing add salt and keep stirring until garlic changes its colour.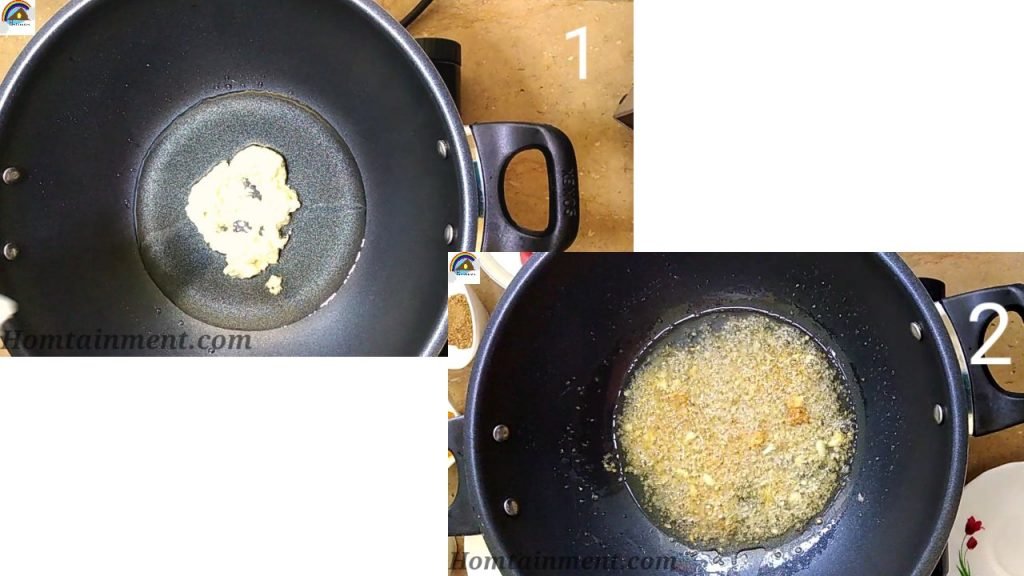 Stir fry chicken:
When garlic paste changes its colour it is the time to add chicken pieces. And stir fry until color changes.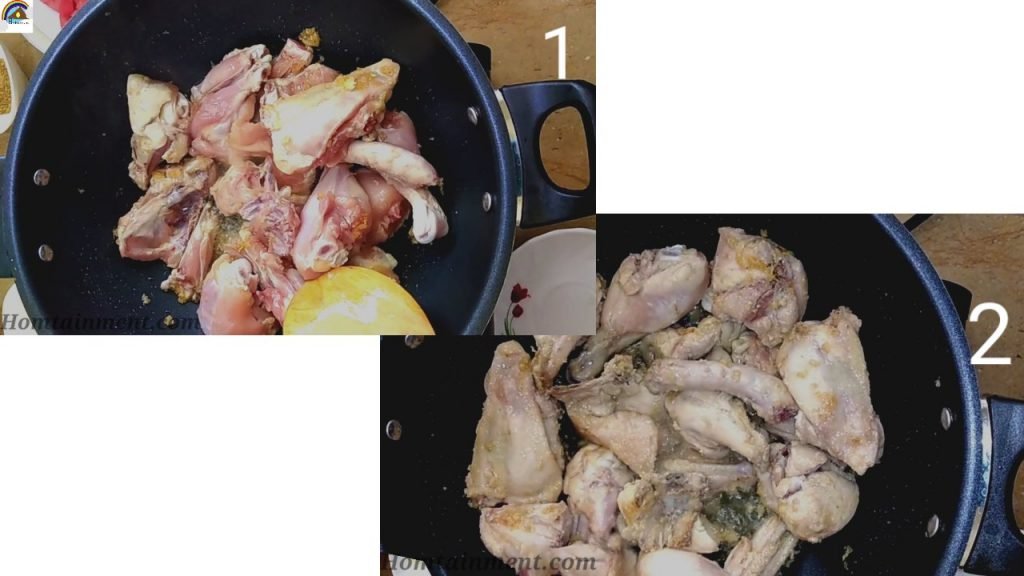 Stir fry spices:
When chicken changes its colour, add spices like red chilli powder, coriander powder, cumin powder, turmeric powder in the oil. For this se make little place in the wok. Saute these spices in the oil for one minute and then roast with chicken. You can see in the picture. I made a little place with oil between chicken pieces and saute spices in . Cook this for 10 min on low heat.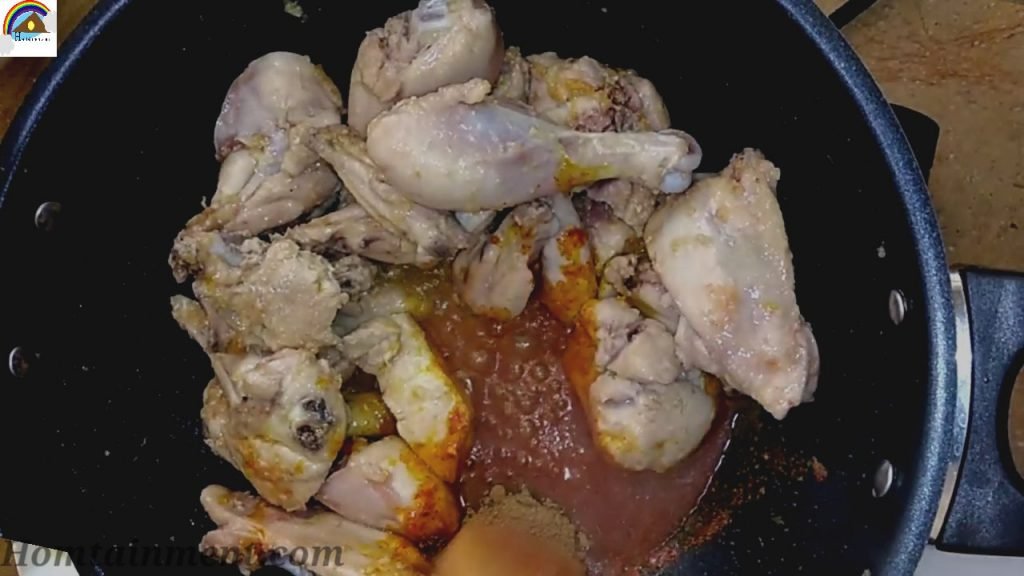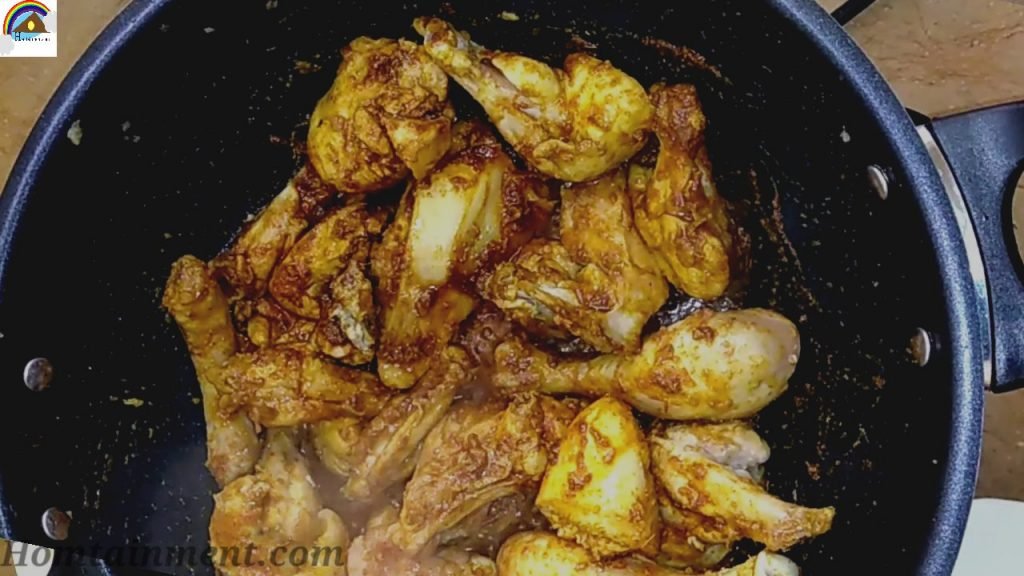 Addition of chopped tomatoes:
Its time to add peeled and chopped tomatoes and then mix. Do not add water, just let it cook for 10 min. Add yogurt at this stage too for batter taste. This help in removing chicken smell. That's optional.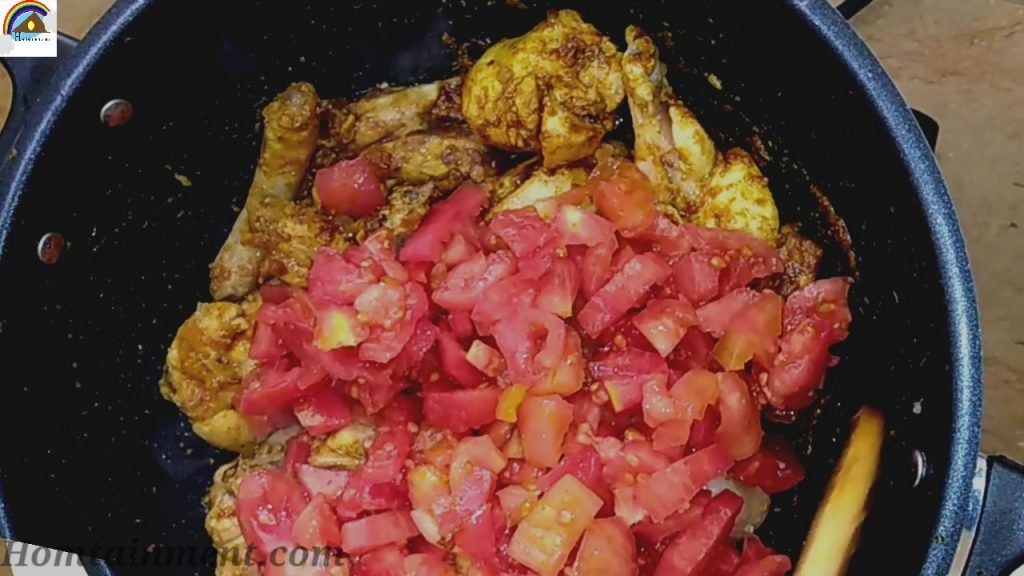 Ginger paste and black pepper
Tomatoes start releasing their juices now add ginger paste and black pepper. And let it cook for 40 minutes in a covered pan.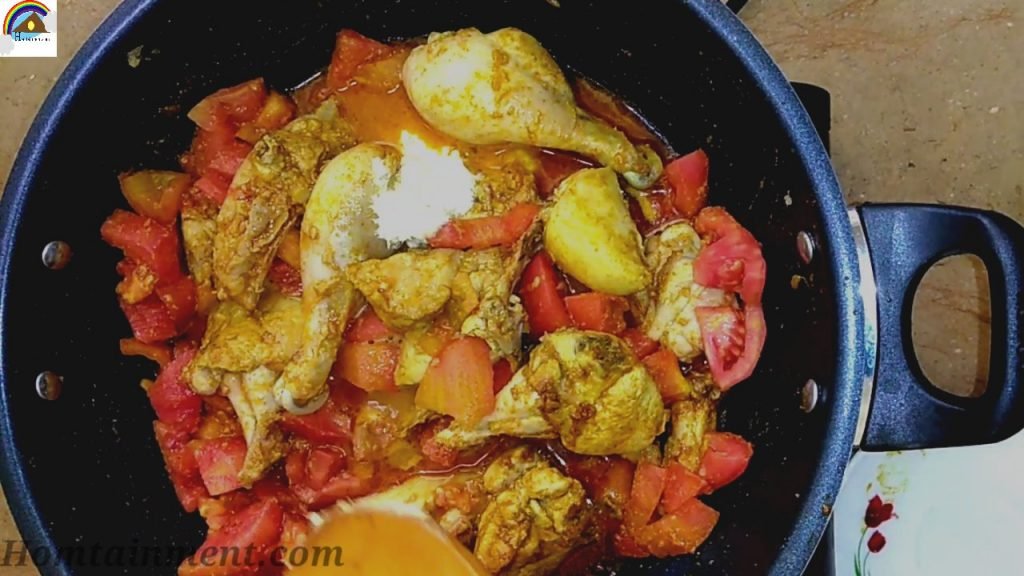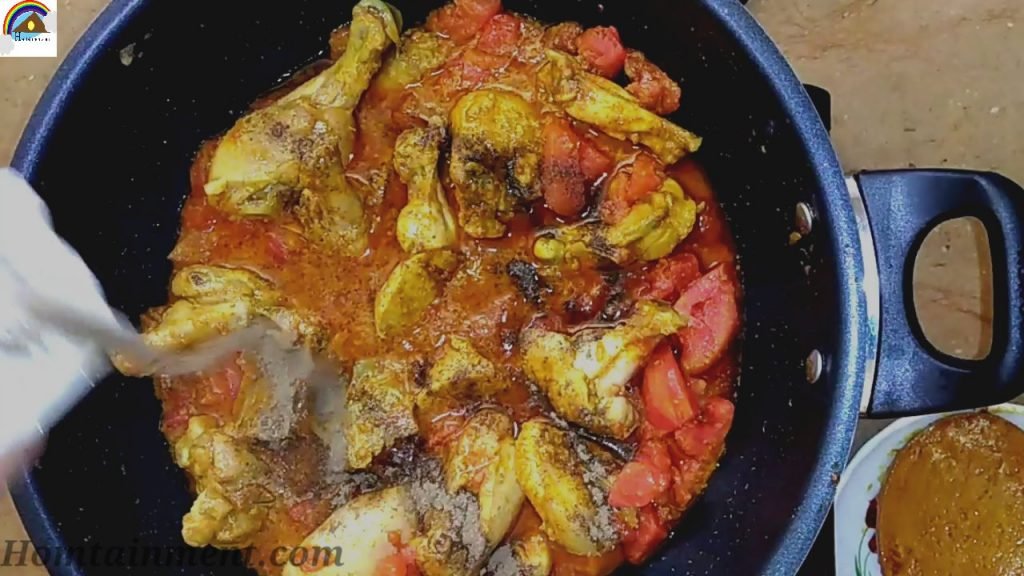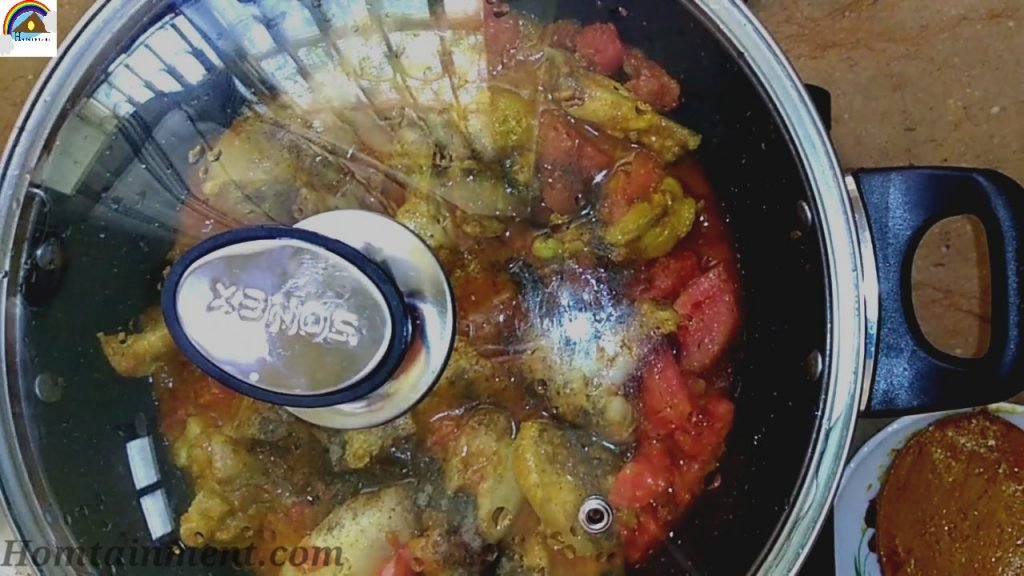 Garnishing
Water dries and the chicken gets tender. The oil separates. Just cook for 2-3 minutes more on medium to high flame.. The recipe is ready to serve. Now Garnish with Julienne cut ginger, green chillies chopped and cilantro chopped and garam masala you like. It goes very well with chapati.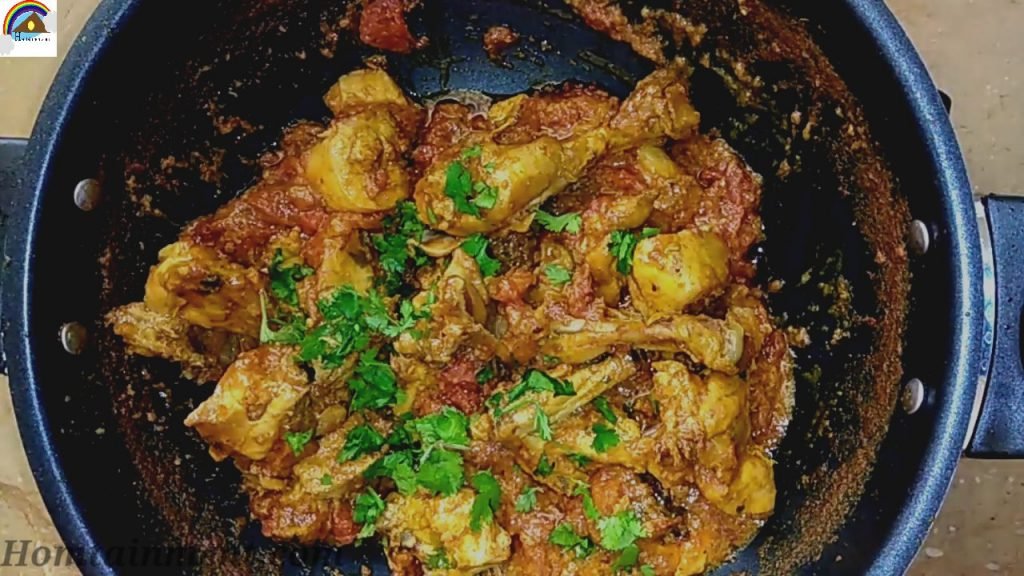 Spicy tangy chicken karahi is ready to serve.
Calories in Chicken Kadai Pakistani recipe:
This recipe can be served to 6 people. Average portion of chicken karahi contain about 400 calories. These calories mostly come from protein carb and fat. Every portion contain 21% of protein, 9% Carbs and 70% fat. This also contain fiber, sugar, calcium and sodium.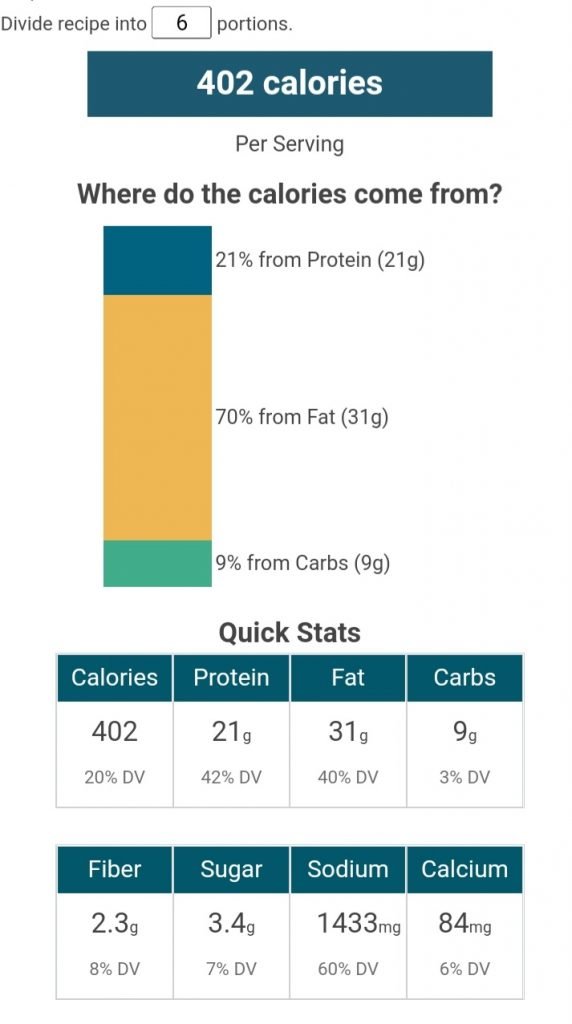 Nutritional values of chicken karahi recipe Pakistani:
This Pakistani recipe is highly nutritious as it provide 42% of protein of our daily diet. Along with vitamin C, iron and calcium. It provides high amount of sodium about 60% and about 37% of cholesterol. These two nutrients are not good for people with high blood pressure and heart problems. We can improve there presence by reducing the amount of salt and oil. Otherwise it is healthy, nutritious and mouth-watering recipe among Pakistani and Indian cusine.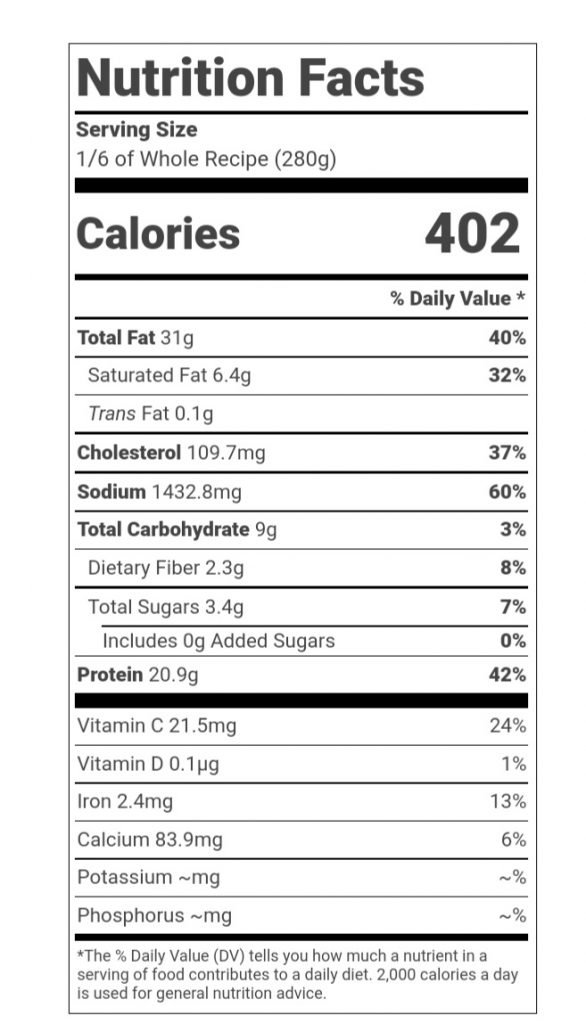 View our authentic recipe of mutton karahi in Pakistani style.
Check out our other chicken recipes
stuffed green chillies chicken pakora|chicken peri bites.
Pakistani Chicken curry recipe
Chicken Karahi
The secret of cooking chicken karahi is method of stir fry chicken in its own water and tomato juices. Just follow a few simple steps and you got your finger liking recipe.
Ingredients
750

g

chicken

small pieces

1

tbsp

ginger paste

1

tbsp

garlic paste

500

g

tomatoes

peeled chopped

1

tsp

black pepper powder

4

pieces

 green chillies

2

tsp

 Red Chillies powder

1

tbsp

coriander powder

1

tbsp

Cumin powder

⅓

cu0

yoghurt

(optional)

1

tbsp

salt

to taste

⅔

cup

Oil
Instructions
Video
If you liked this article, then please subscribe to our YouTube Channel for more video recipes. You can also find us on Twitter and Facebook.