Chicken stuffed green chillies recipe is sinfully delicious appitizer. We can be serve it as tea time snack or as a side dish with your dinner or lunch. Main ingredient of this recipe is jumbo size green chillies, which are Jalapeños peppers with chicken mince filling.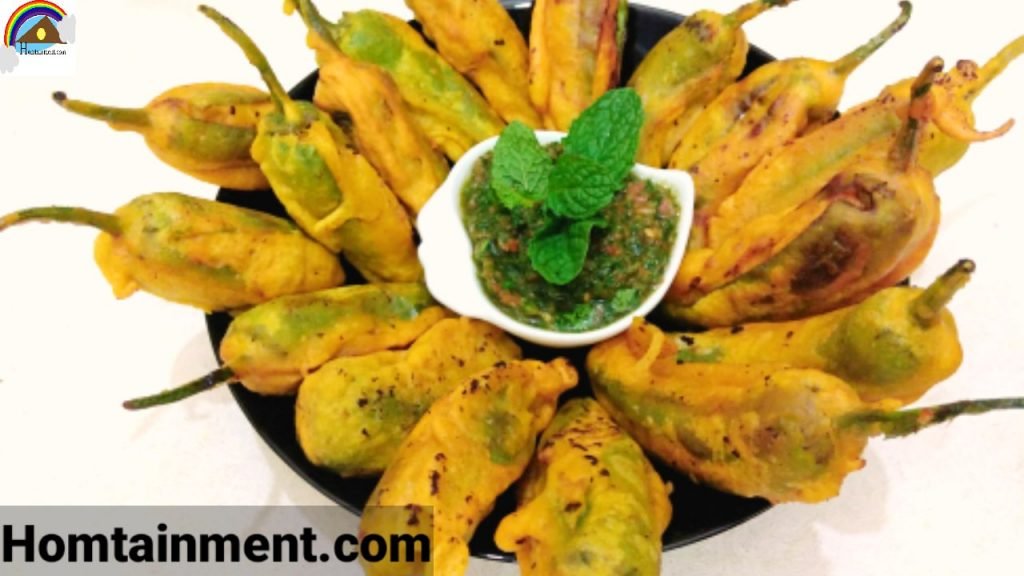 Variations of stuffed green chili pakora recipe:
This recipe is desi style twin of chicken peri bites from South Africa. Peri bites use peri sauce which is hot in taste. This recipe don't use peri sauce and taste is very mild. In this recipe we are using marinated and cooked chicken mince and no mayonnaise or cheese.
This recipe can be a closed companion of jalapeño poppers from Taxes. They are usually covered with bread crumbs but stuffed green chillies are usually covered with mixture of gram flour.
We call it Pakistani style Jalapeño poppers or green chillies Pakora recipe with chicken stuffing. We call it mirchi pakora.
Ingredients for Chicken Stuffed green pepper pakoda or chicken mirchi pakora: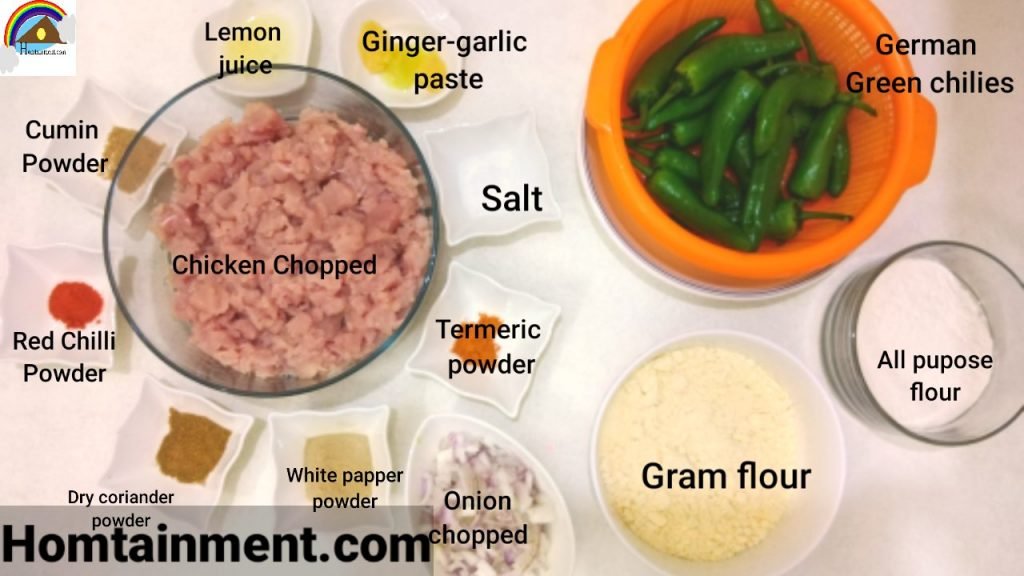 We need simple ingredients for making stuffed green chillies Pakora that includes some vegetables, spices and chicken mince, gram flour and all purpose flour.
Vegetables includes green chillies, ginger-garlic paste, chopped onions. Green chillies are usually bigger in size and mild hotness called jalapeño poppers.
Spices are simple and easily available. We need Salt, Red chilli powder, turmeric powder, dry coriander powder, cumin powder and white pepper powder.
Chicken: I prefer to use freshly ground chicken breast but you can use boil chicken. In case you are using boiled chicken then first boil the Chicken, then shred it and then mix all the seasoning.
we mix gram flour and all purpose flour in 2:1 ratio to make pakodas soft and crisp.
Oil: We use vegetable oil for cooking mince and frying.
Steps for preparation of chicken peri bites:
We need to follow few easy steps
First of all we will Add all dry ingredients in a mixing bowl and mix with spatulla. Add water gradually, ampproximatly 50 ml at a time and mix.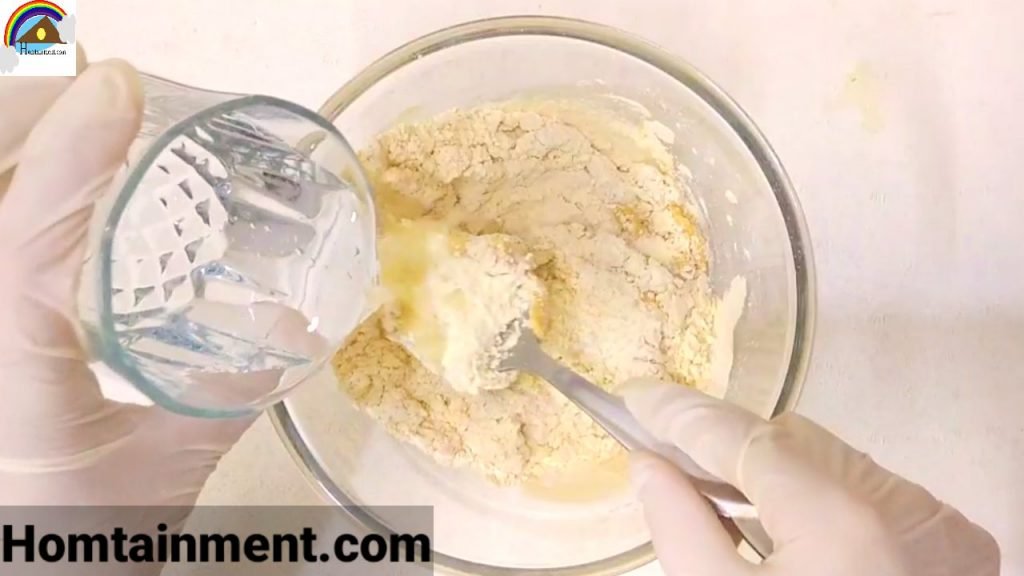 Until smooth mixture form. Let it rest for 10 to 20 min. In this resting time we will cook mince for stuffing. For making stuffing mix all the ingredients with chicken mince and marinate for 10 minutes.
Now add marinated chicken mince in these onions and cover. Cook until water dries on low flame. It may take 10-15 min.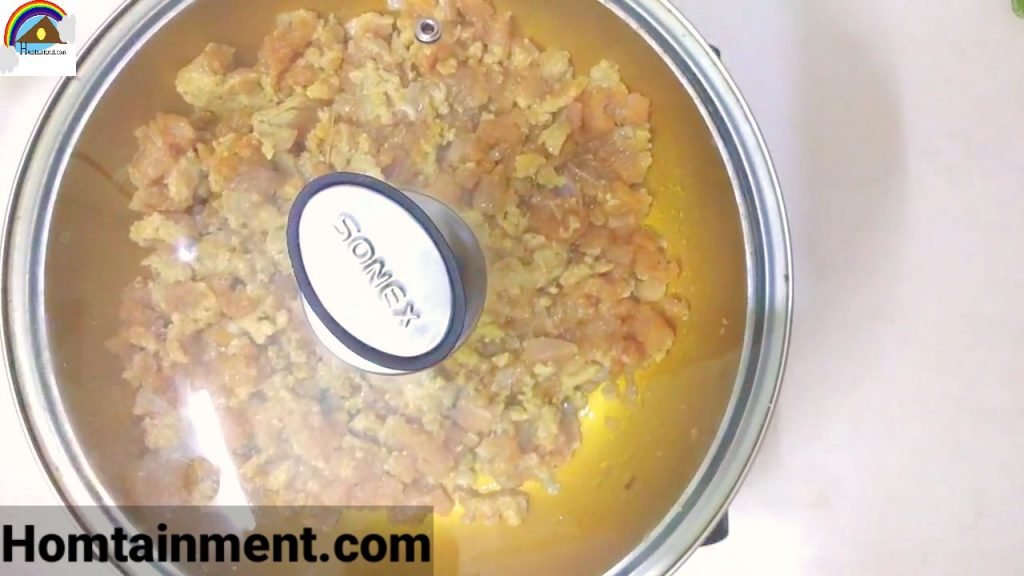 After cooking let it cool before filling. Wash and dry all the green chillies. Slit open green chillies from one side and remove all seeds.
Fill all the chillies with teaspoon one by one and set aside. Dip stuffed green chillies in gram flour mixture and add in hot oil.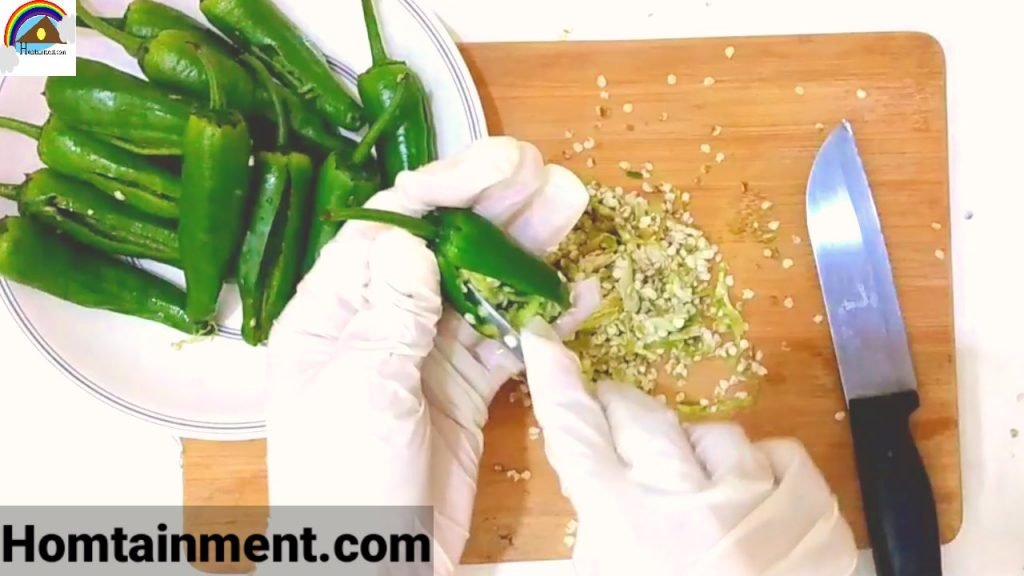 Take oil in frying pan let it heat on low flame. When oil is hot enough add gram flour mixture coated green chillies one by one.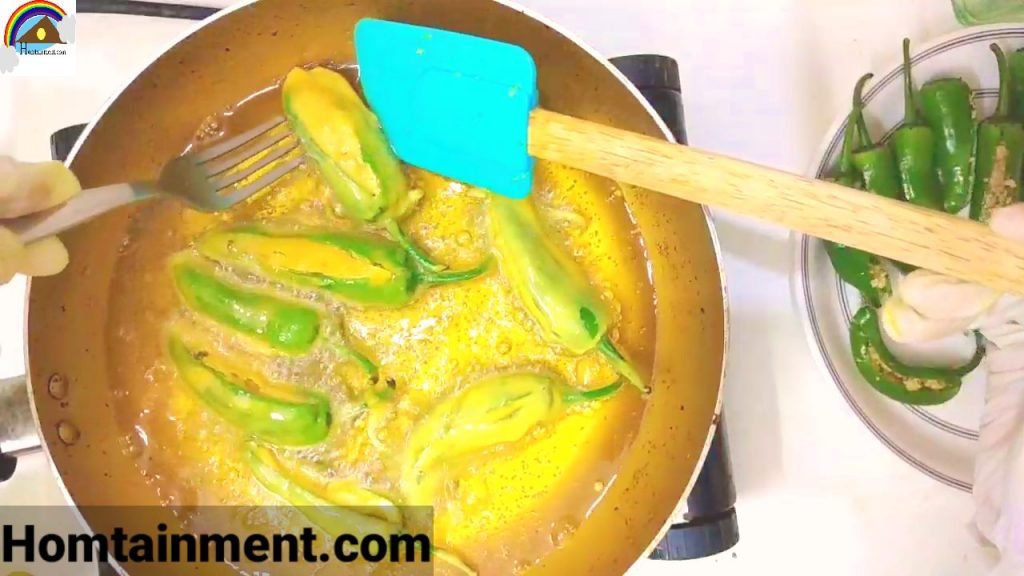 Cook from one side with out disturbing and then change its side and cook from other side. When stuffed coated green chillies cook from both side, remove from oil and serve hot with green chatni.
Check out our other chicken recipes
stuffed green chillies chicken pakora|chicken peri bites.
Pakistani Chicken curry recipe
Chicken Stuffed green chillies or chicken peri bites
Chicken Stuffed green chillies or chicken peri bites
Equipment
1 frying pan

1 mixing bowl,
Ingredients
Ingredients for gram flour mixture
4

tbsp

gram flour

3

tbsp

All purpose flour

1

tsp

Dry coriander powder

½

tsp

Turmeric powder

½

tsp

Red chilli powder

½

tsp

salt

175

ml

water

approximately, as required
Preparationof chicken stuffing
250

g

chicken mince

breast

½

tsp

Salt

½

tsp

Red chilli powder

½

tsp

Turmeric powder

1

tsp

Dry coriander powder

½

tsp

Cumin powder

½

tsp

White pepper powder

2

tbsp

lemon juice

½

tbsp

ginger-garlic paste

1

p

onion

medium, chopped

2

tbsp

oil
Stuffing of green chillies
15

p

green chillies

fresh
Frying of stuffed chilles
Instructions
Video
Notes
Gram flour mixture should be thick to coat and stay on green chillies while frying. 
Do not stir while frying, otherwise chicken stuffing will come out and make your presentation messy.
Now Take a pan and add chopped onions and let it cook untill color changes to light brown.
Try our other snack recipe, chicken nuggets.
Please subscribe to our YouTube Channel for more video recipes. You can follow us on Twitter and Facebook.