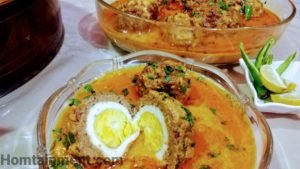 Nargisi kofta recipe is a really tempting and surprising treat. It can be served as dinner or lunch as a main dish. Here is a recipe for making perfect nargisi koftey with ground beef that will never break and spoil your happiness. You dont need to find a restaurant for this special meal again.
Nargisi kofta is a kind of koftas having a surprise inside. Well, that sounds interesting and a treat for your meal. There is an egg ensconced inside meat mince mixed with spices.
History of nargisi kofta recipe or egg nargisi kofta recipe
Persian origin kōfta (کوفته) kōftan (کوفتن) means "to grind". It means rissole, which is a mixture of grind meat and spices used for the meatballs. During the time of the Persian and Turkish Ottoman Empire, they used to sell as street food.
why these koftas are called Nargisi kofta?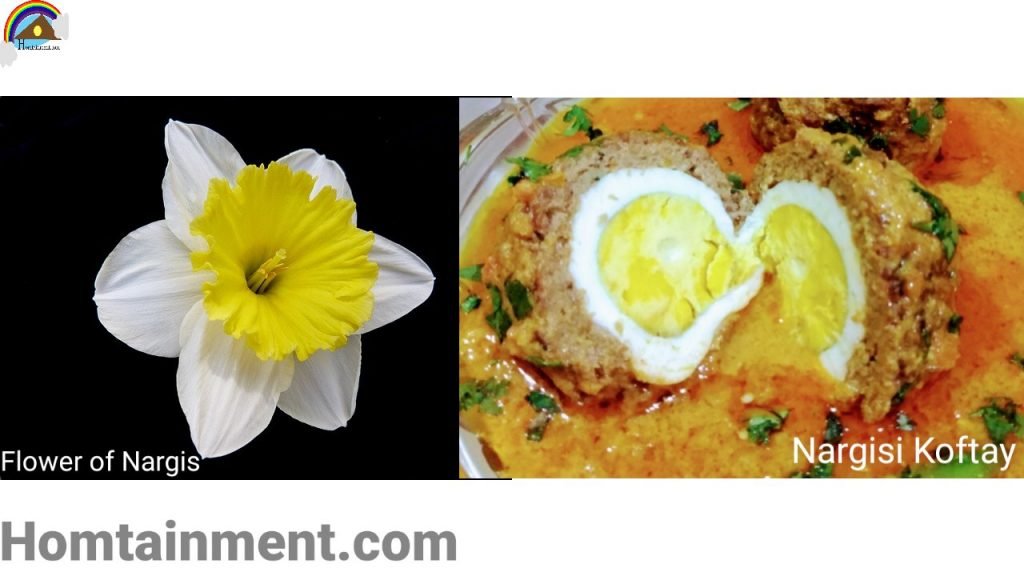 The word Nargisi comes from Persian name of the flower Nargis or narcissus or poet's daffodil. This flower Nargis has white petals outside with yellow petals inside, just like the human eye.
This dish is quite interesting as it also showing a resemblance with the scotch eggs that are especially popular in Scotland as a part of picnic food. In my opinion, it came from the British to the subcontinent and here those Scotch Eggs found their companion "curry" that was already famous all over the subcontinent with kofta as kofta curry. So it can be served with rice or flatbread, which is a staple food of the subcontinent.
Scotch Eggs and Bengal's Dimer Devil eggs are also just like nargisi koftay. Dimer Devil eggs mean spicy eggs, but they are coats from outside. The coating is different in different areas. In Bengal, it is usually mutton mince. In London, it uses sausages. That is far more different from old-style Deviled eggs that are stuffed inside with hot spices like red chillies or black pepper along with mayonnaise, mustard sauce or egg yolk.
Due to the close resemblance of shape and kind of cooking with subcontinental food often this dish is called nargisi kofta curry or anda kofta curry or egg kofta curry.
What do you say about this? Please feel free to comment ?
In the Pakistani style of making nargisi kofta curry or egg nargisi kofta recipe, people like to use beef mince for coating eggs. We can also use chicken, mutton and fish mince for coating in this egg kofta curry. While in India vegetarian nargisi koftay are also very popular as people of India don't like the meat to eat they use vegetables mainly for their food preparations.
Cooking time to prepare nargisi kofta with beef, mutton, chicken or fish mince:
Nargisi Kofta with beef mince take the longest time to prepare as compared to mutton, chicken ? and fish ?
Chicken and fish means tenderize while frying but mutton and beef mince will take longer to cook after frying in the gravy. Mutton mince will take about half an hour to cook, while beef mince will take approximately an hour.
This required time ⏲️ can be reduced in the pressure cooker. In this nargisi kofta recipe with curry, we will use a pressure cooker.
Ingredients of making nargisi kofta curry:
Preparation of Nargisi Koftas requires mince, fried onions, ginger paste, garlic paste, spices and eggs.

Gravy need onions, yoghurt, ginger paste, garlic paste, green chillies, cumin and coriander.
How to make egg nargisi kofta recipe?
Preparation of nargisi kofta ingredients:
First, we will do Bengal gram grinding in a blender or food processor to make powder.
Grind cashew to make powder, then mix with yoghurt to make a thick paste.
Hard boil eggs in salted water for 10 min, then remove from hot water and soak into ice-cold water. This step will help in the easy peeling of eggs.
Preparation of Pakistani curry for koftas:
First, heat oil in a pan and cook until golden brown. Remove half of the golden-brown fried onions on tissue paper and set them aside. Let them cool. In a pot with remaining fried onions, add ginger garlic paste. Let this paste cook till light brown. Now add salt and spices like red chilli powder, turmeric powder and cook for one minute. Add tomato Purée and cook until oil separates. It will take about 15 minutes. The whole process will take about 40 minutes.
Preparation of nargisi kofta masala make these koftas meatballs:
Mix beef mince, fried chopped onions, ginger garlic paste, salt, red chilli powder, red chilli flakes, cumin seed powder, coriander seed powder, green chillies and green coriander chopped. Chop this masala in a chopper or food processor to make it smooth. Now add Bengal gram powder and one beaten egg. Now knead this mixture of beef meat mince like a dough for about 10 minutes. Let it rest for 10min then make medium sized balls. Make sure all meatballs should be equal in size. Now flatten these meatballs and cover eggs one by one.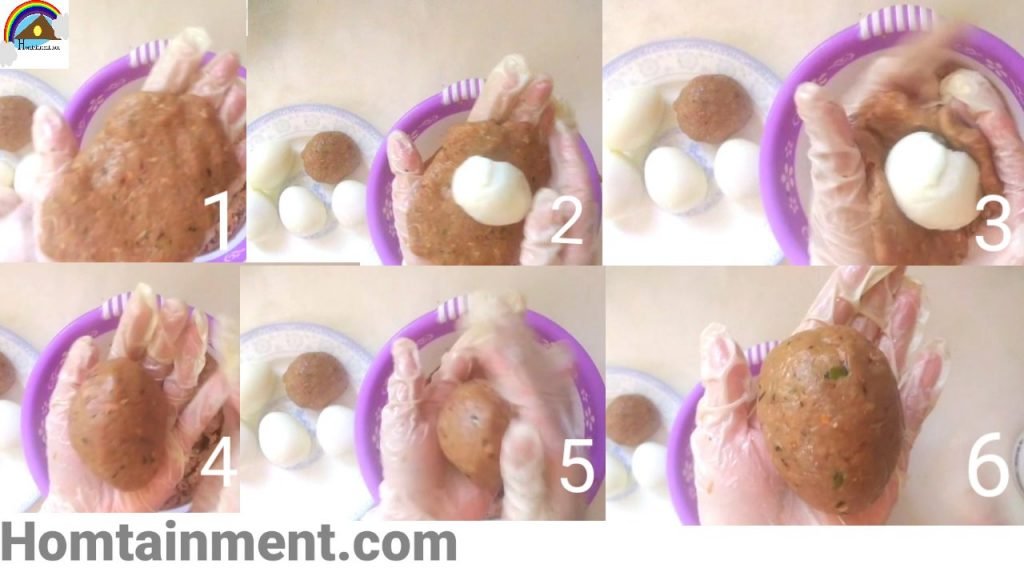 Then put them in oil. Keep in mind the oil should be hot enough. We can check this by dipping a chopstick into the hot oil. If that produce bubbles, it means oil is ready to fry koftey.
Combine both nargisi kofta and curry:
Now let's combine both gravy and koftey to make shahi beef nargisi koftey curry
Add fried koftey to the curry and add water. Close the lid of the pressure cooker and cook for about 20 minutes while the visible is on. After 20 minutes, turn off the flame and release the pressure. Now open the lid, add butter and Kaju yoghurt paste and cook for 10 minutes on low flame. Keep stirring occasionally.
After 10min nargisi koftey are ready to serve.
Pro-tips for making perfect Beef Nargisi koftay recipe Pakistani Style:
You can use gram flour instead of black Bengal grams. But before using a gram, don't forget to dry roast in a frying pan to avoid its fragrance and taste on koftay.
After wash, you must drain mince properly. It's better to wash meat and then make mince.
After mixing all ingredients, knead the dough for at least 15-20 minutes. Then let it rest for about 10 minutes before coating. Kneading will make the mince more sticky and prevent it from shrinkage and breakage during cooking.
Make the equal size of balls of kneaded mince and then flattened and coat eggs. 500grams of mince is enough for 5eggs. Do take enough mince to layer on eggs, so it won't break on cooking or frying. Breakage happens when mince sprinkle.
There should be enough room for the mince to shrink.
Step by step method of preparation nargisi kofta curry with ground beef
Nargisi kofta recipe
Super delicious and surpising treat for your main course. In this recipe you will find pro tips and exact ingridients for perfect nargisi koftey with curry. You can get prepare this resturant style koftay in less time with same great taste.
Equipment
blender or hand mixer or food processor

pressure cooker

stove

mixing bowl,

Ladle

woke
Ingredients
Ingredients For Nargisi koftay
500

Gram

Beef mince

20 % fat

2

tbsp

Fried onions

chopped

2

tbsp

ginger garlic paste

1

tsp

Salt

1

tsp

red chili powder

1

tbsp

Red chili flakes

1

tbsp

Cumin seeds powder

1

tbsp

Coriander powder

2

tbsp

fresh coriender and chopped green chili

4

tbsp

Roasted Bengal grams

5+1

Eggs

5 Hard boiled and 1 raw
Ingredients for gavy
1

Cup

Tomato Purée

750

ml

water

2

tsp

salt

1

Cup

Chopped onion

shallow fry to brown

4

tbsp

oil

1

tsp

red chili powder

1

tsp

turmeric powder

2

tbsp

ginger garlic paste

1

tbsp

cumin seeds powder

1

tbsp

Coriander powder

1

tbsp

Red chilli flakes

4

tbsp

Yogurt

2

tbsp

Kaju

100

Grams

Butter
Instructions
Video
Notes
You can check hotness of oil by dipping mactchstick or shashlik stick. If bubbles appear it means oil is hot enough.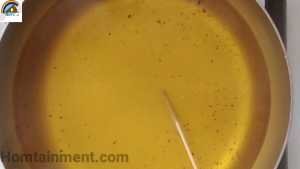 Nutritional value and facts of egg kofta or Beef Nargisi koftas Curry In Pakistani Style.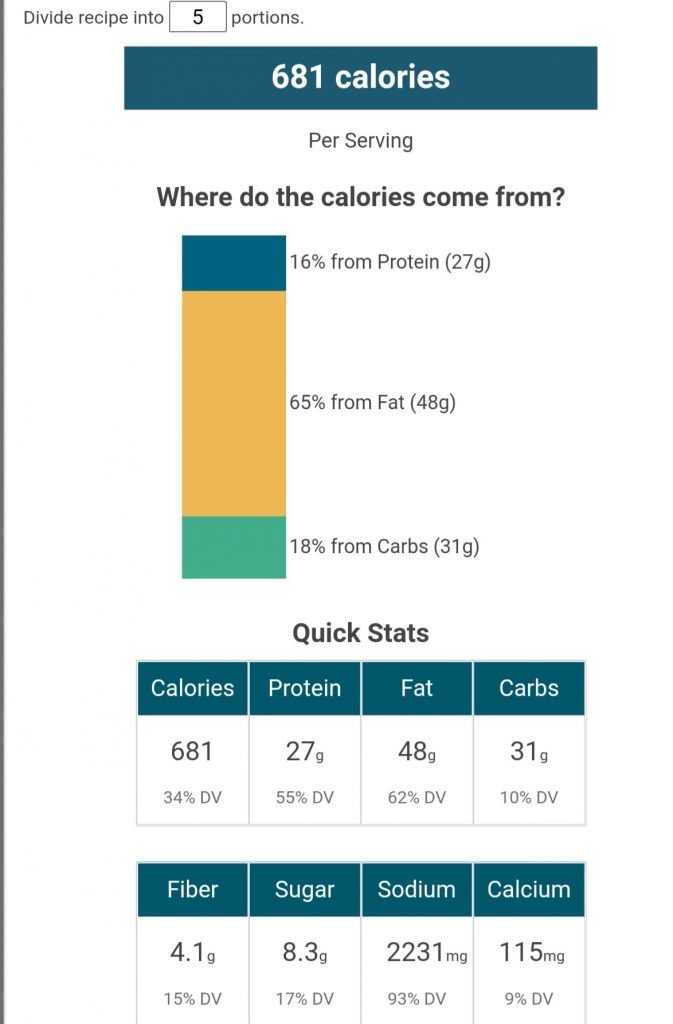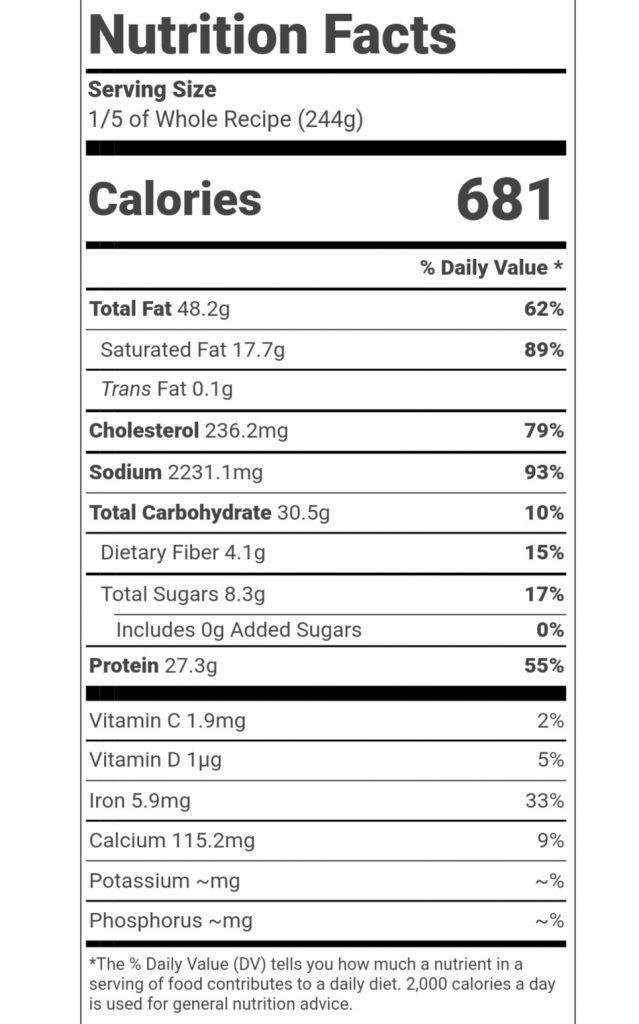 If you liked this article, then please subscribe to our YouTube Channel for more video recipes. You can also find us on Twitter and Facebook.
Please check out our other beef Recipes
pasanda curry|Pot beef fillet curry