Creamy yogurt dressing salad gives a refreshing taste in hot summer. Fruit and vegetable with boiled macaroni in a creamy yogurt dressing give fresh and healthy combination. It is Pakistani style Russian salad but without mayonnaise.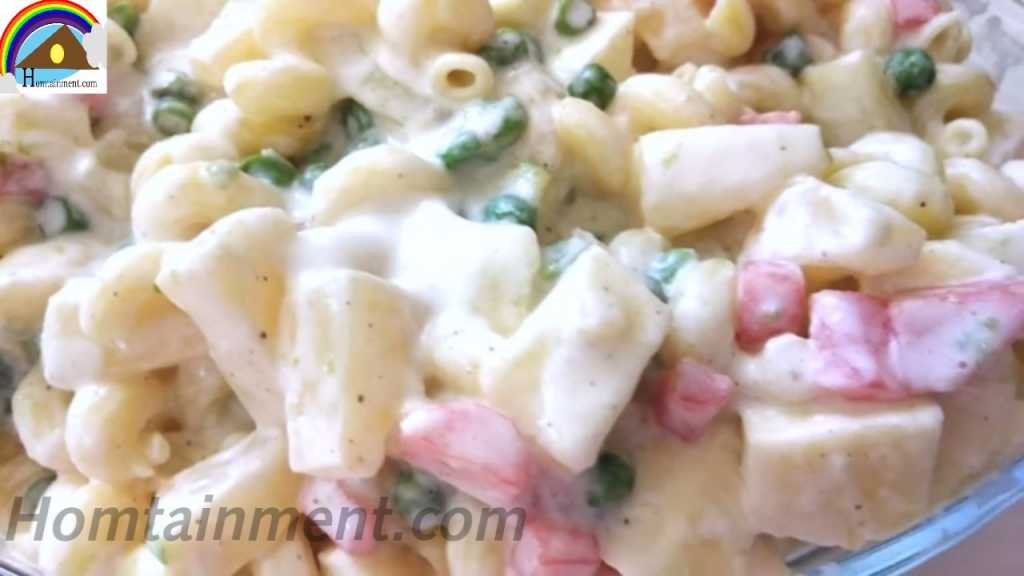 Recipe Cuisine
Pakistani
Recipe Category
appetizer
Prep Time: 30
CookTime:15 min
Setting Time : 2h
Total Time: 2h 45 min
Serving size:
1cup
Recipe yield
6
Quick Recipe Of Creamy Yogurt Dressing Salad
Ingredients
1/2 cup Yogurt
1/4 cup honey
1tsp salt
1/2 tsp black pepper
150 g Full fat cream
1 cup macaroni and boiled
1cup potato boiled
1 cup Peas boiled
1/2 cup carrot small cubes
1 cup apple cubes
1 cup pineapple small cubes
Instructions
Peparation of fruitsand vegetables: Peeloff one potato large size and cut into small cubes then boil for five minutes. Peel carrot and cut into small cubes. Cut one large size apple and cutbit into cubes. Peeling of apple is optional. Cut pineapple into small cubes. Tin pineapple chunks can be use if fresh is not available. Boil one cup peas for 5 minutes.
Preparation of creamy yoghurt dressing: Blend yogurt, cream, honey, black pepper and salt in the blender or a Whisk to make thick paste.
Mixing of ingredients:Add boiled macaroni, boiled peas, boiled potato, apple cubes, pineapple cubes, carrot cubes in a mixing bowl.
Mixing of ingredients and creamy yogurt dressing: Mix freshly prepared dressing with solid ingredients with two spoons thoroughly so all cubes get dressing to coat.
Setting/Resting time: Now cover and place freshly mixed salad in a cool place for about two hours before serving.
Key points:
Peparation of fruits and vegetables: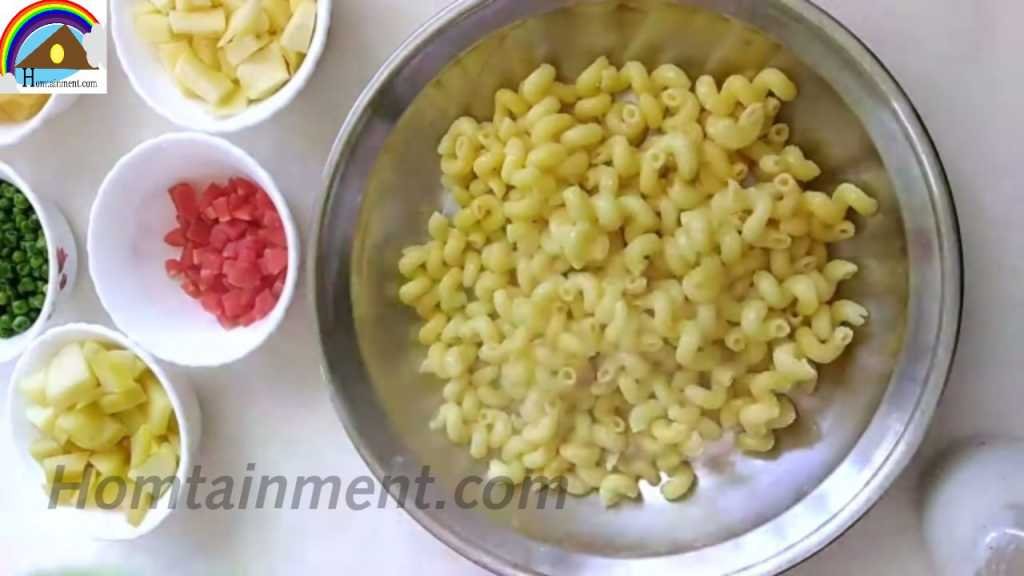 we are using ingredients like apple, carrot, pineapple, in raw form. We need them fresh. Always cut them just before mixing otherwise your salad will lost its freshness and taste will be ruined. If it is necessary to cut them before mixing add a few drops of lemon juice to apple chunks to avoid blackening. Pineapple cubes can be freshly cut or that can be tin pack. Carrot chunks should be stored in air tight container or zip lock bag in cool and dry place to avoid soggyness.
Other ingredients like potatoes, peas and macaroni must be boiled before before adding in salad. Add water in the pan with half teaspoon of salt. Boil for 5 min and then blanch to avoid over cooking. Blanching is the process of adding ingredients into ice cold water immediately after boiling to stop process of cooking. This will help in retaining the shape and and save ingredients from over cooking.
Preparation of creamy yogurt dressing: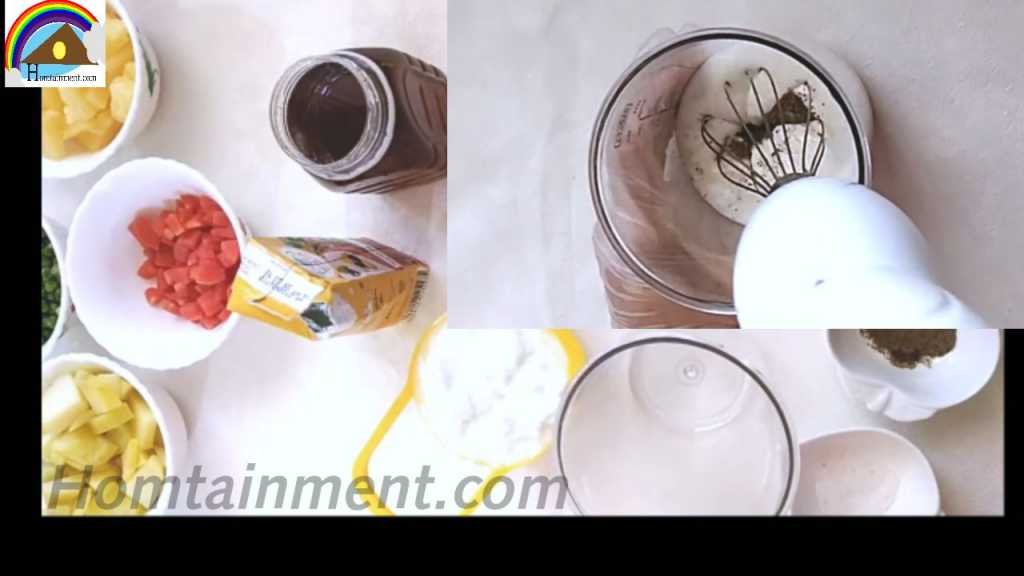 For making yogurt dressing we need yogurt, cream, honey, salt black pepper, salt and white pepper. White pepper is optional as my kids don't like its flavors, I don't use it. To make paste creamy we should beat as much as possible and we can do this by our hands or hand mixer.
Mixing of vegetables and fruits: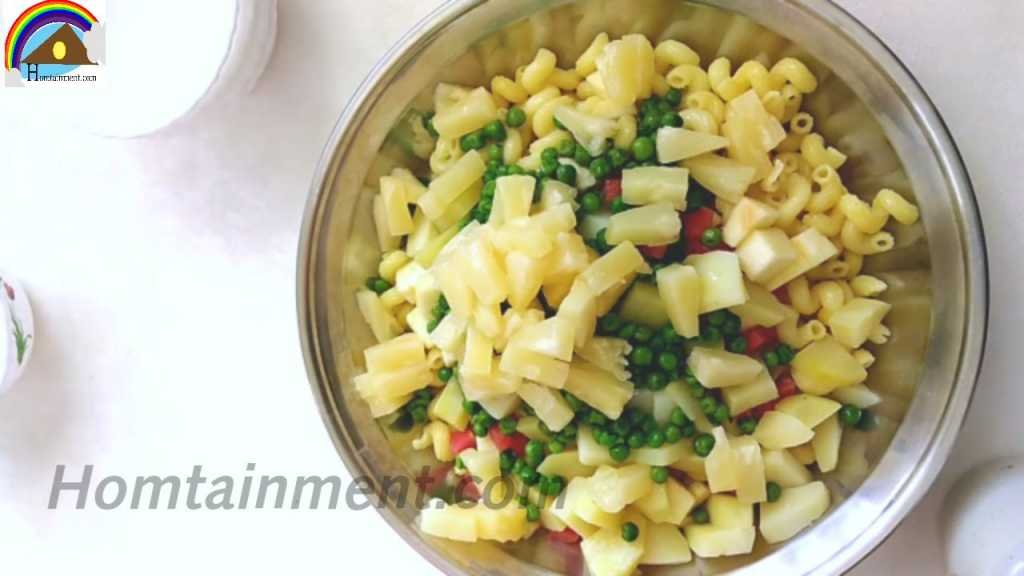 Take a large mixing pan and add all solid ingredients in it. Mixing bowl should be wide enough so mixing proces gets easy.
Mixing of vegetables and fruits with creamy yogurt dressing: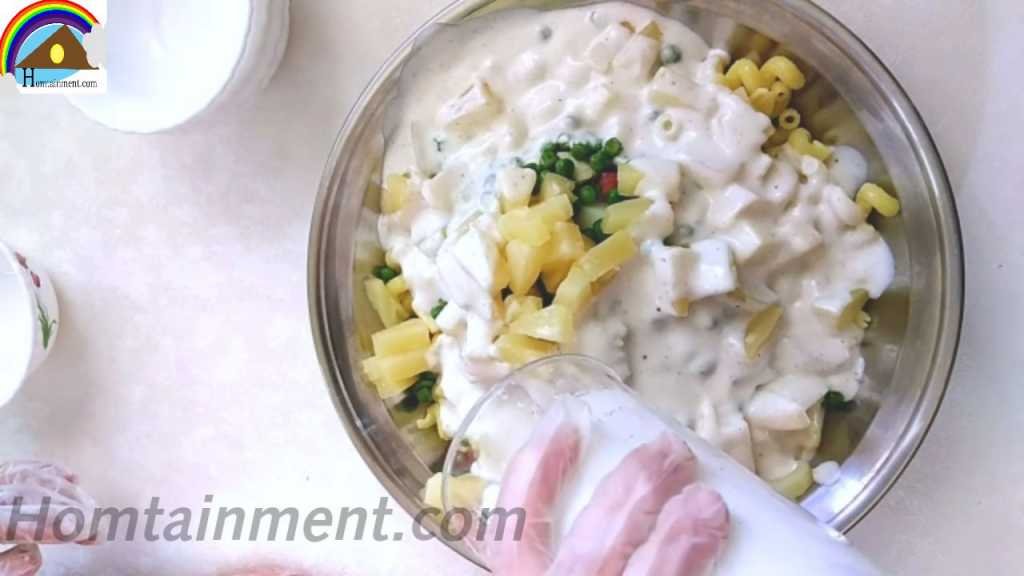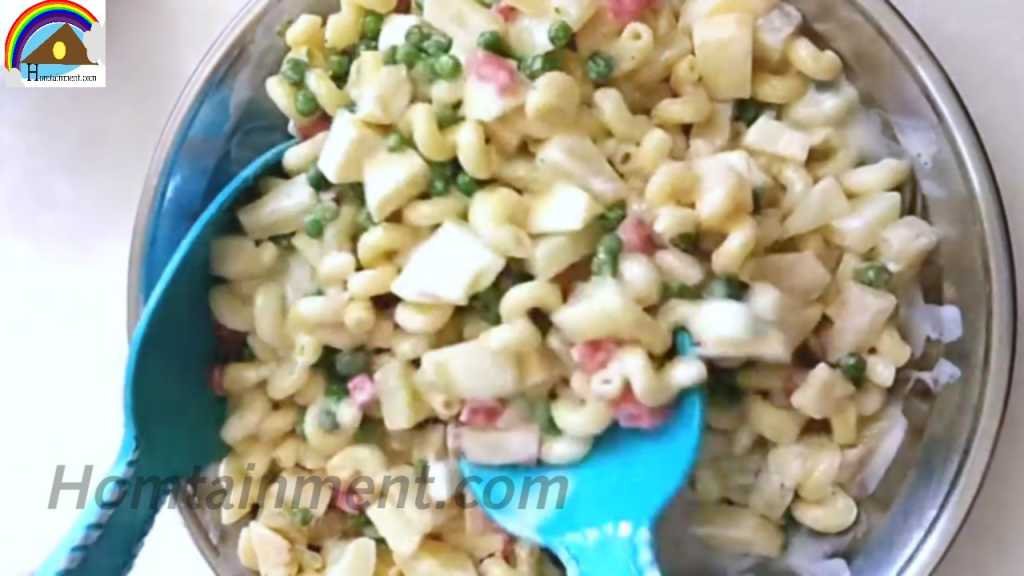 I use two spatula to mix ingredients so that every chank will get fully coated with dressing. Mixing with hands is not at all is good idea.
Setting/Resting time: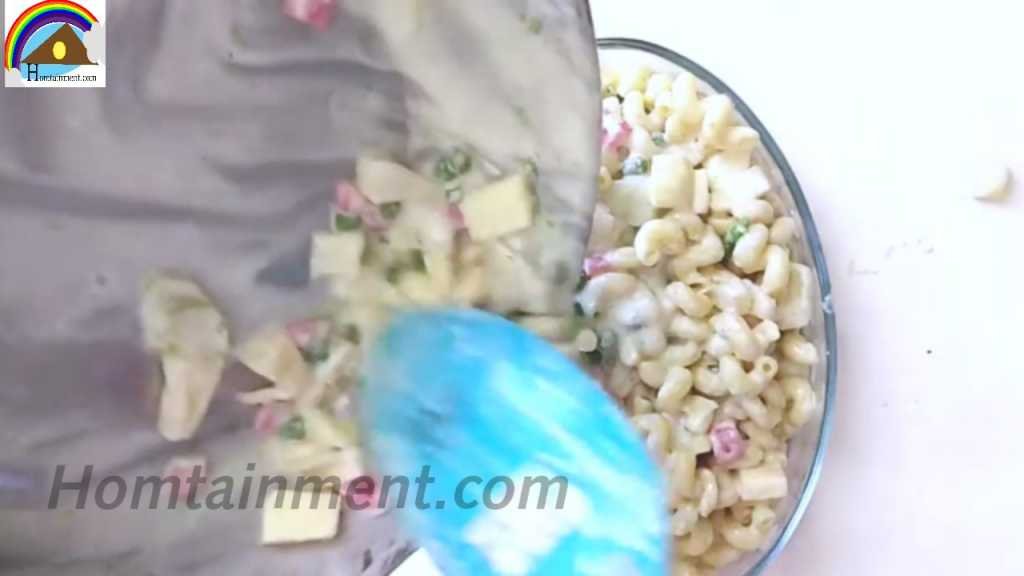 Now transfer all mixture to a serving container and cover it with the lid or plastic wrap and place it in the fridge for 2 hours.
Serving suggestion
This recipe taste best when cool. This salad can be placed in the fridge for 3 days.
If you liked this article, then please subscribe to our YouTube Channel for more video recipes. You can also find us on Twitter and Facebook.