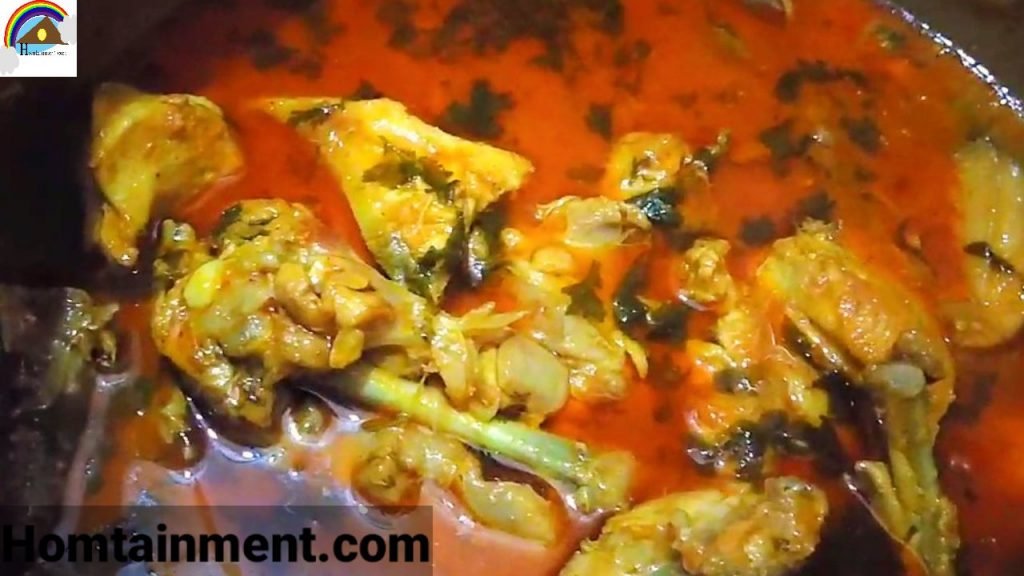 Chicken curry is specially famous in Pakistan and India before 17th century. We use to cook this famous dish on arrival of guests and on jovial occasions at our home. This simple yet so delicious dish is the combination of meat specially chicken, vegetables along with good combination of powdered spices. I love to eat this chicken curry with rotti (wheat flat bread) and naan. It also make good combination with boiled rice. My sister use to have this combination always.
History of chicken gravey:
Curry chicken or chicken ka salan has quite old and famous in history. In old subcontinent people use to make chicken curry for special occasions and for their guests with domesticated chicken or fowl that grow at their homes. when British merchants came to subcontinent it became popular among Britain too. They were already use to make stew with more or less same ingredients but the specially liked the taste or Indian curry powder mix.
Curry word is derivation of tamil word "kari' that means masala or salan/gravy. The term curry used by Indian merchants. British liked the spices and wanted to take this taste to Britain in the form of powder. Curry powder consist different dried spices mix mainly red chili, turmeric, cumin, coriander, black pepper and curry leaves(optional). we make this delicious chicken curry with dried spices powder and some other few ingredients like onion, garlic, ginger and tomato. All these ingredients when cook with water and oil definitely satisfy our taste buds.
We can prepare chicken curry in very less time and effort but this gracefully satisfy taste buds on dining table of whole family.
Ingredients of chicken curry: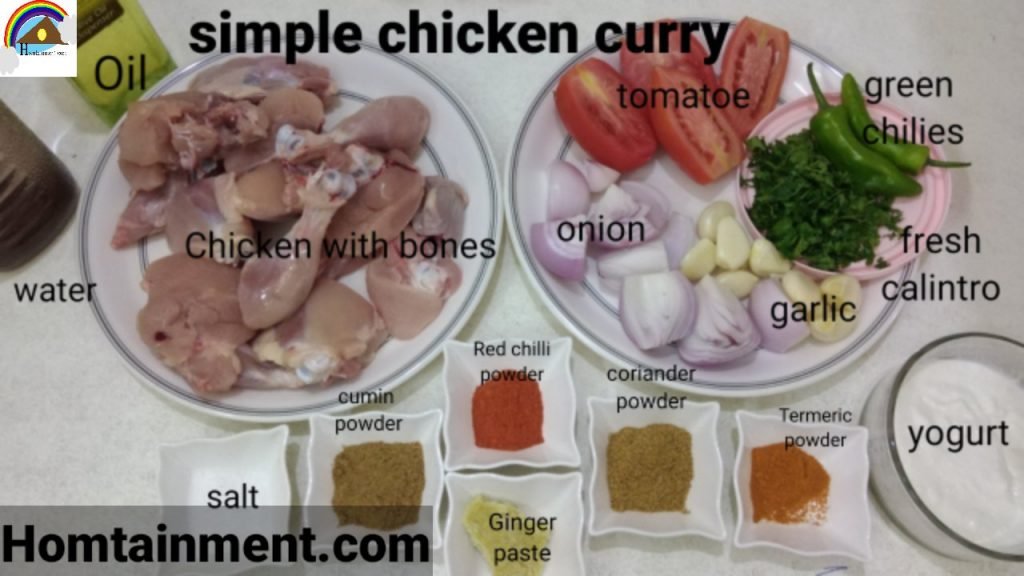 This chicken curry requires few basic ingredients, chicken, vegetables and spices, but addition of yogurt give it a twist.
Chicken:
We usually take small pieces of chicken like we can make 12 pieces of 1kg chicken meat. This chicken meat is skinless with bones. I prefer to use small size chicken like 1 to 1.5 kg is enough. Biggest chicken will make this old fashion chicken ka salan bland.
Vegetables:
We use simple and easily available vegetables like onion, tomatoes, garlic, garlic, fresh calintro and some fresh green chilies. These vegetables are usually basic ingredients of all Pakistani and Indian gravy recipes. I prefer to use tomatoes with out peels. Here I am sharing a simple tip to remove peels of tomatoes easily.
Garlic and ginger can be used as fresh as well as dried form. I prefer fresh paste.We use chopped green calintro and green chillies for garnishing.
Spices:
Spices for making this Pakistani chicken curry or chicken shorba recipe are simple and basic. Ground spices are salt, red chilli powder, turmeric powder, cumin powder, coriander powder. Black papercorn powder, garm masala powder kasuri methi (dried fenugreek) powder are optional. Kasuri methi sprinkle gives very special fragrance to your gravy. I prefer simple old style chicken shorba.
We can use whole spices like cloves, black peppercorn, bay leaves and green cardamom. There wholebspices are optional and give mature taste to your chicken curry.
yogurt:
This special ingredient give a little tangy taste and due to this ingredient chicken loses its typical annoying smell too. This ingredient is optional.
We use oil for bhunai and water for making curry.
How to make chicken curry in Pakistani style:
People in early 1900's use to cook chicken curry in mud utensils for at least 3-4 hours with garlic, potatoes, onions and other Indian dried spices. Mud pottery give different type of flavour to food.
In this moderen and fast era we use pressure cooker that greatly reduces cooking time.
Here I am sharing a quick and easy recipe for this famous chicken curry. This recipe is my mom's special recipe. she use to cook it so delicious and flavorful.
How to get perfect shorba or curry?
We must use balanced quantities of tomatoes, onions, garlic cloves fresh coriander and fresh green chillies. Use of alot of onions give sweetness to your curry. Too many garlic make this shorba extra thick.
This chicken shorba or curry is specially characterized by thick and smooth consistancy of gravy without any lumps or tomato chunks. We must nicely blend onion, garlic, ginger and tomatoes. It must not too thick or too runny and perfect yellow colour. I love perfect colour of gravy.
The spices mix should be in moderate quantity to make it warm and satisfying.
Presentation suggestion for famous chicken curry Pakistani: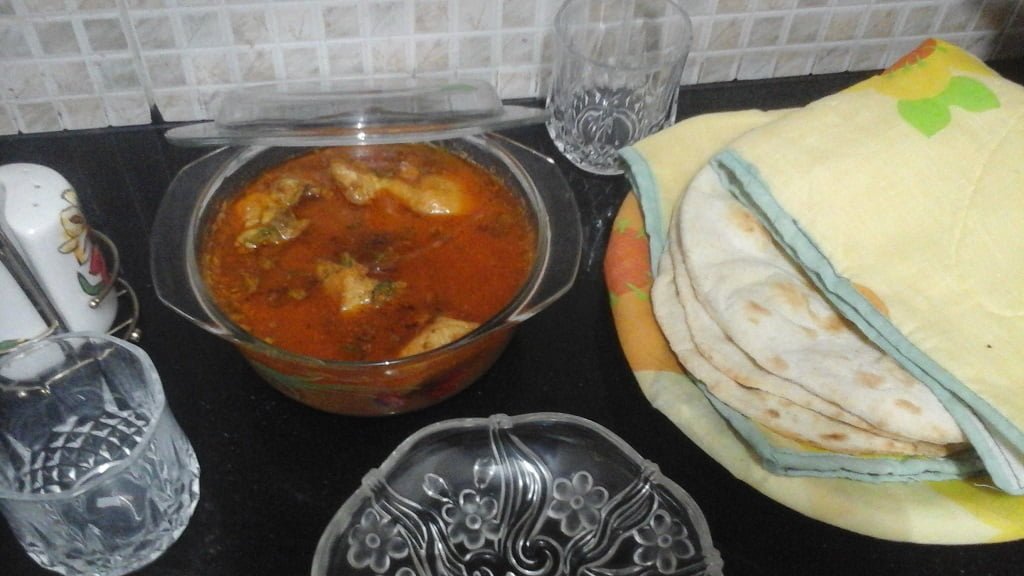 This simple mom's recipe of chicken shorba is always special and satisfying.
Chicken shorba recipe Pakistani, Chicken curry recipe
We take medium sized chicken that is usually 12 pieces of 1.5kg chicken. this chicken cook with vegetables, oil and dried Indian spices.
Ingredients
1

kg

whole chicken

cut in to 12 pieces

⅓

cup

oil

200

g

tomatoes

medium sized

150

g

onion

large sized

5-7

cloves

garlic

1

tsp

ginger

freshly ground is better option.

1

tsp

salt

1

tsp

red chili powder

½

tsp

turmeric powder

2

tsp

coriender powder

1

tsp

cumin powder

3

tbsp

fresh yogurt

optional

1

liter

water

fresh coriender and chopped green chili for garnish (optional)
Instructions
Video
Check out our other chicken recipes
stuffed green chillies chicken pakora|chicken peri bites.
Pakistani Chicken curry recipe
Please subscribe to our YouTube Channel for more video recipes. You can also find us on Twitter and Facebook.